Here are some of our spooky Halloween paintings
We made autumn tree biscuits! The children listened carefully to the instructions and helped mix the mixture. To make the trees look more like autumn trees, we dipped them into melted chocolate!
Bonfire Night is always an exciting time and we couldn't wait to share our weekend news! We completed some firework activities and talked about the history of Bonfire Night. We made sparklers outside and danced with firework ribbons. We also made "soup" in the mud kitchen to keep us warm on a freezing cold night. Inside, we made breadstick sparklers, painted firework pictures, made rockets with shapes and made 3D model rockets.
Emma from the Foodbank came to Nursery to talk to us about sharing. She read the story of 'The Rainbow Fish' and explained the importance of giving and sharing with others. Emma showed us some tins and packets of food that people donate to the Foodbank and we talked about things that we would like to share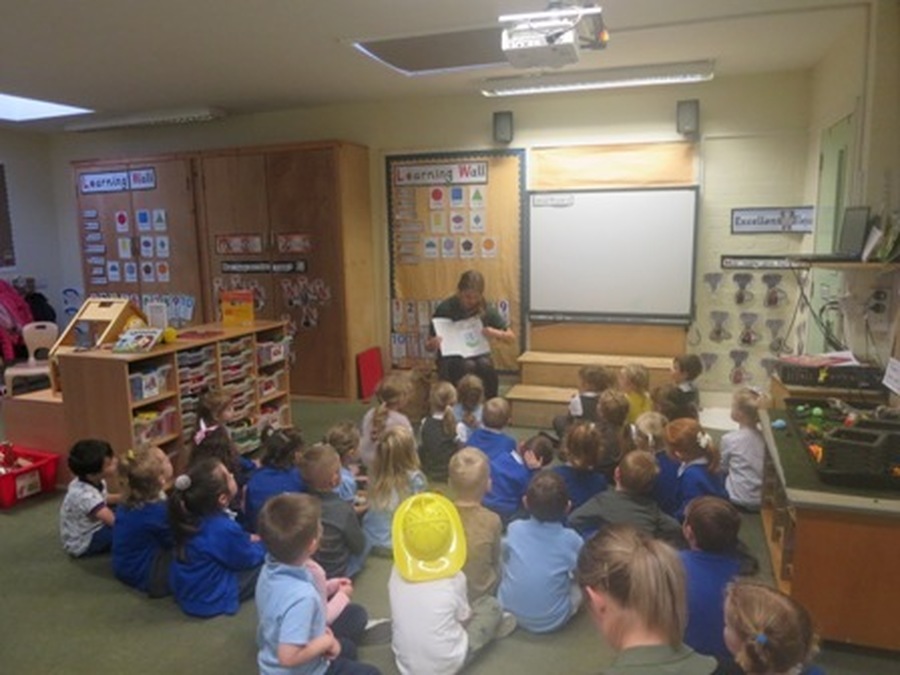 We have been celebrating Hanukkah. Hanukkah is the Jewish festival of light and the children made the link to Diwali being the Hindu festival of light. We read the story of Hanukkah and learned about the menorah. We also made potato latkes which are eaten as a reminder of the oil burning for eight days.
The children have enjoyed reading the story of 'Little Red Riding Hood'. We wondered how to fit this into our Phunky Foods work. One of the children suggested being the big bad wolf and eating Little Red Riding Hood. So that's what we did! We used two grapes for the body, ham for the cape and half a tomato for the hood. She was delicious!
The children were so excited to go on to the library van today. We collected all our books from our last visit and carried them carefully on to the bus to change them for new ones. We enjoyed looking at the wide range of books; it was so hard to choose just one! After we changed the books, we took them back to class to share with our friends.
Santa Express
Children and staff had a great day visiting Santa and having a ride on the train
We had great fun celebrating Diwali today! We learned that Diwali is a very important holiday in India and it is a Hindu "festival of light" which celebrates the New Year. We discussed the similarities and differences between our New Year and their New Year. We realised that they were on different dates but we both have fireworks to celebrate. There were lots of Diwali activities to do today. We made mango smoothies, elephant handprints and diva lamps. Hindus light lamps for the festival as it honours Lakshmi, the goddess of wealth. The lamps are lit to help Lakshmi find her way into people's homes.
The children enjoyed their autumn walk along the cycle path. We found lots of interesting things! We found different coloured leaves, pine cones and acorns. We even saw a man who was flying his pet falcon! He kindly stopped to talk to us about his fascinating pet.
Matching numeral to quantity
The children have been learning about 'Harvest'. A surprise package arrived on Monday morning and inside there was: a book titled 'Oliver's Vegetables', a range of vegetables and a letter. The box was from Oliver. He wanted the children to explore the different vegetables and to enjoy them as much as he did! We looked, touched, smelt and tasted the different vegetables as well as making marks with them. We also baked bread this week. We choose some herbs from our herb garden to put into our bread and it was delicious!