Class 5 Mrs Jones
In PE we are learning how to march in time to music, moving faster, slower and following instructions
Prayer and Liturgy
We are reflecting on the Baptism of Jesus this week. We know that we need water to be alive and are beginning to understand that when we are baptised the water means that we have "Life in Jesus".
Building Bridges
We have been sharing the story of the Three Billy Goats Gruff and we are building bridges and investigating what makes a strong bridge.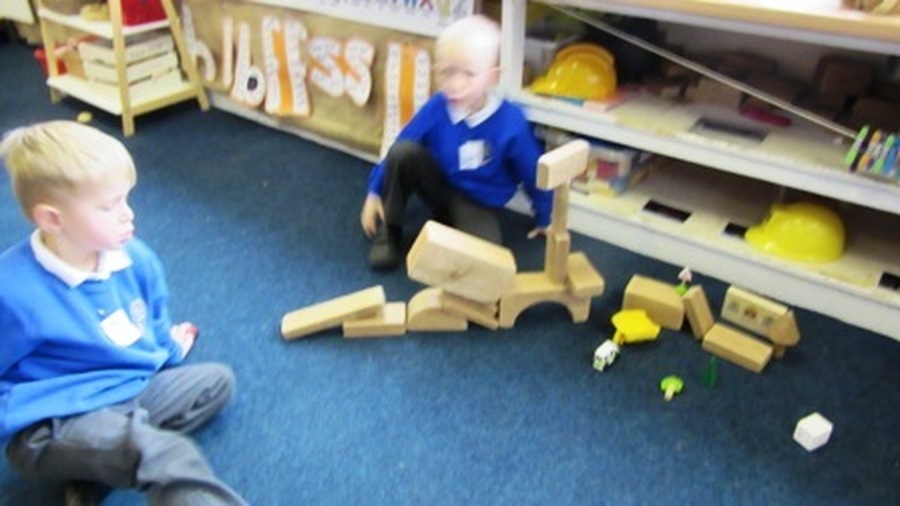 Exploring Winter
The weather has certainly turned very wintry and the children have been exploring the patterns of frost and ice outside. We have also shared what we know about winter with our talk partners. We are investigating how ice is made.
Library Visit
We are encouraging the children to look at and share books with others
Myself and Keeping Healthy
As part of keeping healthy we brought in toothbrushes and learned about the importance of brushing them every morning and every night. We learnt that we need to use a timer to keep brushing for 3 whole minutes or we won't get rid of all the bacteria and germs.
Outdoors
We have been encouraging the children to look at the signs and symbols that are outside and work out what they mean.
We have been learning all about our new classroom and learning
the names of our new friends
Maths
We have been making some repeating patterns
Computing
We have been exploring the programmes on the i-pads and because we have been sharing the story of the Very Hungry Caterpillar we painted butterflies using a paint programme for symmetry.
John the Baptist
We have been learning about John the Baptist and how he baptised people in the Jordan River to wash them of their sins. We talked about how we need to share and be kind like Jesus taught us and we should say sorry for the things we do wrong. We role-played the story of Jesus baptism in class.
Phonics
We like to have fun when learning letters and sounds and using Twister was great fun. You could do this at home.
We have been learning about Diwali and have made Diwali lamps.
We enjoyed making Halloween and Bonfire crafts to celebrate our British Values and family traditions. What did you do to celebrate these events? Don't forget to load up photographs to your child's learning book for us share.
This week we have shared the story of the Gingerbread Man. We designed our own gingerbread man on paper then decorated the biscuit to take it home to eat! "Run run as fast as you can, you can't catch me I'm the Gingerbread Man!" Can you child tell you the story?
Coatroom
We do lots of learning by ourselves by exploring different areas.
Healthy Living
We have been learning about how to keep fit and healthy. We have sorted different food types and tasted some fruits from our story Handa's Surprise. What healthy choices can you make when choosing your shopping? We have also been learning about our bodies and how we need to exercise. Can you make your heart beat faster?