Jack and the Beanstalk
We planted a bean and recorded our method using pictures. We used our senses to smell and feel the soil and the beans. We looked at the pots and asked why they had holes in the bottom! Then we decided where to put the pots to see which beans grew the quickest
100 Mile Challenge
We have one member of class 5 that has now completed the 100 mile challenge. How many miles have you walked or ran since we started? We were happy to see another 50 mile certificate awarded too.
We have been learning about Jesus' first visit to the temple when Anna and Simeon were so happy to see him because he was the promised Saviour.
We made a Christingle for Candlemas.
In PE we are learning how to march in time to music, moving faster, slower and following instructions
Prayer and Liturgy
We have been thinking about our own mothers and Jesus' mother Mary this week and we have prayed for all those mothers around the world who care and love for their children and others.
Giant's visit
Class 5 have been sharing the story of Jack and the Beanstalk and were shocked to find that the Giant had visited class and left some of his clothes behind.
We looked at the size of the clothes and compared them to our own. We could fit more than one person inside the t-shirts and jeans. His socks were as long as our legs.
Where is the Giant now? We sent some letters to him to collect his clothes but have had no reply yet!
Chinese New Year
Chinese New Year celebrations are coming to a close after 15 days. We have taken part in many activities over the past 2 weeks to learn how Chinese people celebrate this festival. We have tried Chinese food, made lanterns, taken part in a dragon dance and learnt about the Chinese New Year story about the race of the animals across the river. This year is the year of the dog so we made Chinese masks of the dog. We also had a look at Chinese temples and had a try at making one from wooden blocks in class.
Adding and learning to show how we have recorded our work.
Celebrating Chinese New Year
Prayer and Liturgy
We are reflecting on the Baptism of Jesus this week. We know that we need water to be alive and are beginning to understand that when we are baptised the water means that we have "Life in Jesus".
RSPB Bird Watch
We enjoyed our bird watching this term and made bird feeders and noted how many birds we saw. We found out that birds like it when there are no children making noise and they ate our feeders when we went back to class. We did see lots of blackbirds and seagulls high in the sky. We also made our own birds in class and feeders to hang on the trees.
We are excited to have snow at school and collected some to find out how long it took to melt
Building Bridges
We have been sharing the story of the Three Billy Goats Gruff and we are building bridges and investigating what makes a strong bridge.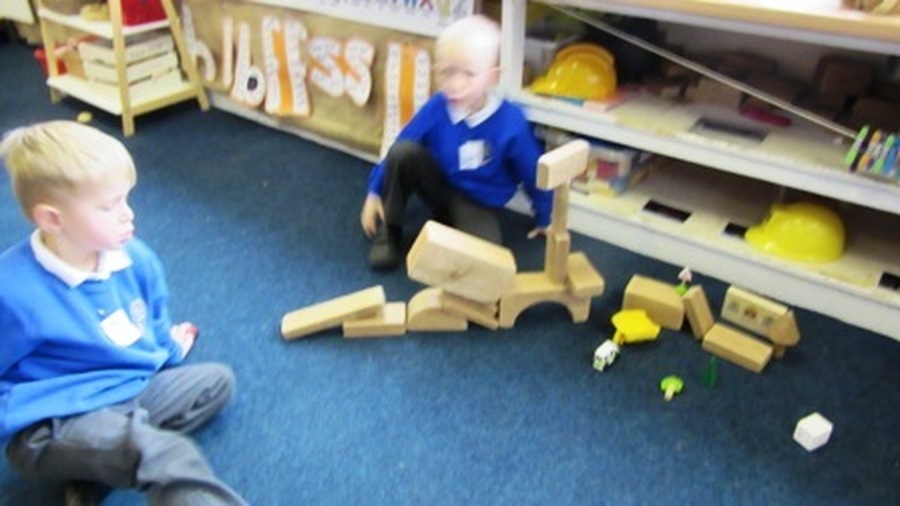 Exploring Winter
The weather has certainly turned very wintry and the children have been exploring the patterns of frost and ice outside. We have also shared what we know about winter with our talk partners. We are investigating how ice is made.