Welcome to Class 7
Mrs Trainor
Art
Our topic for this term is 'Space' in Art. This week we have learned about the famous artist Jackson Pollock with Mrs Riley. We enjoyed colour mixing and using the colour spat technique to create space like pictures. Ask me these questions...
What two colours can I mix to get another?
What colours make blue?
How did Jackson Pollock hold his brush?
Science (October 1st)
As part of our Phunky Foods programme we enjoying learning how to keep ourselves healthy. First we looked at healthy and unhealthy foods and sorted them into groups. We then looked at a healthy food plate and found out what our diet is made up of. Take a look at our Phunky Food faces where we used fruit and veg.
BANANAS FLOAT ON WATER! Today we investigated what fruit floated and what objects sank when they were placed in water. We talked about WHY fruit like apples and oranges floated. Take a look at us experimenting. Can you believe most of our predictions were wrong?
Science
Would you believe tin foil and plastic bags are waterproof? We have had a great time in Class 7 investigating what materials are waterproof. Our poor little gingerbread were so sad that they couldn't find a waterproof material to protect them from the rain! They were super pleased that we had time to investigate waterproof materials.TAKE A LOOK!
What materials were waterproof? What materials weren't waterproof? What doe waterproof mean? If something is waterproof what happens? Do you have something that is waterproof?
Class 7 have been trying hard to remember the most important parts to a successful sentence after a long break off at Christmas. This is our 3 steps to success....
Capital letters

Full stops

Finger spaces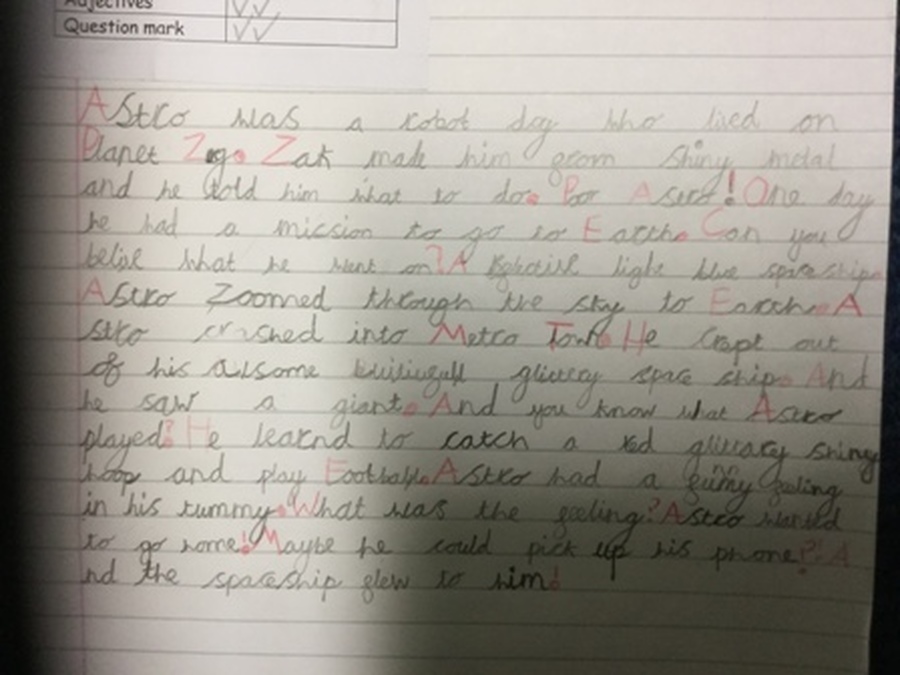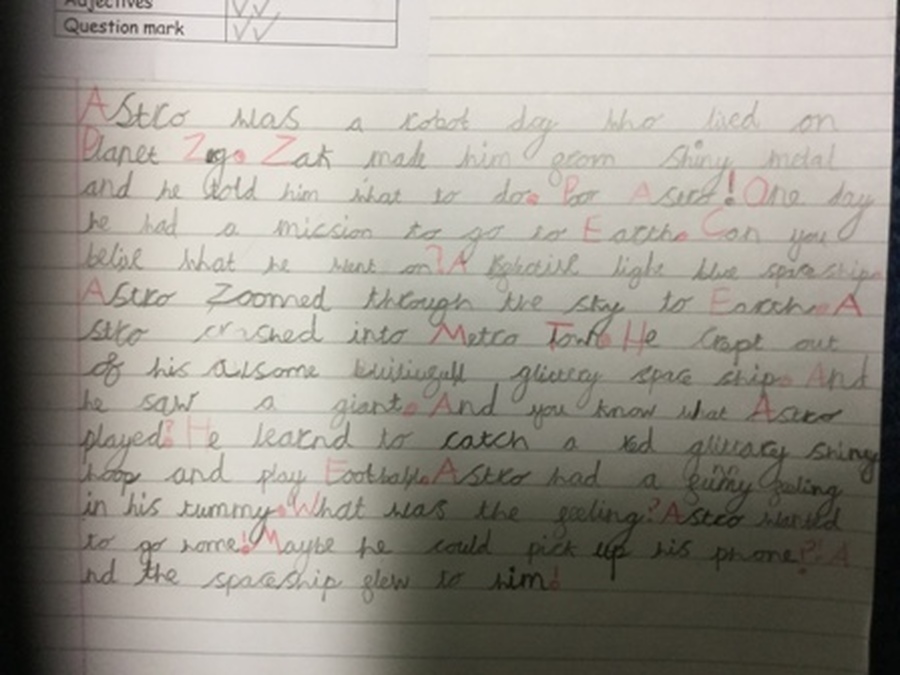 Literacy
What a week we have had in Class 7! Would you like to find out what has happened?
Day 1- After assembly on Monday we came back to a trashed classroom. Chairs on the floor, glitter on the board, hair balls, a lengthy black belt and worst of all Franklin was gone. What were we going to do? We decided to brainstorm all the different clues we could see in the classroom.
Day 2- We knew we had to catch him so we imagined what he would look like and used the clues to draw him. We put the pictures onto wanted posters and used descriptive language such as powerful hands and pearly white teeth to describe him. Surely someone would have seen him? NO!
Day 3- We put the wanted posters around school and asked all the different teachers. Have you seen Franklin? The giant left us a note but Franklin had still not been returned. We decided to put the posters outside around classroom and asked the parents but when we came back to them the giant had ripped them down :(.
Day 4- We were getting a bit fed up at this point! We decided to use our fantastic writing skills and described the giant in detail! We thought that if we used adjectives more people would have an idea of what he looked like. We took the writing to Mrs Jackson but still no Franklin.
Day 5- We arrived at our classroom and Franklin was back! He had been put back by the cheeky giant with lots of sweets. We are looking forward to eating them as a treat after all our hardwork!
Take a look at the pictures below that shows all of this......