Meet our School Council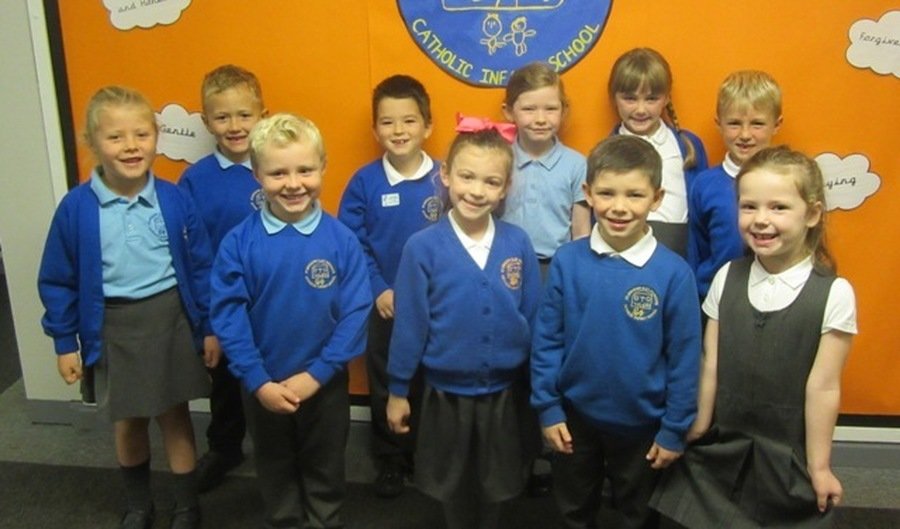 The School Council would like to thank everyone who donated to our coin collection last week.
Each class filled their money pots and we made it around the school one and a half times, which was fantastic!
Each class will now count up their collection and spend it on their own class.
Miss Carruthers in Nursery was very excited to count up her coins as they had saved £76!!
Well done everyone! Most importantly the children had lots of fun making the trail!
The School Council carried out a very successful litter pick down the cycle path. We were shocked to see so much rubbish and would like to remind everyone to put their rubbish in the bin!
Who is on the School Council?
There are 2 children from each class, (Year 1 and Year 2) All council members are elected by their class using votes. Children have to think about someone who will be a good listener, is kind towards others and who will be responsible.
Mrs Gillies is the Grown-Up in charge of the school council who will help the children solve any issues and support their ideas.
How often do we meet?
This depends on how many decisions there are to be made, but usually we will meet once or twice a term at lunchtimes in Mrs Gillies' classroom.
What do the School Council do?

The School Council take part in lots of activities including:
• Listening to the views and concerns of other pupils, if anyone in your class have a problem they can always come to you.
• Representing these concerns to teachers, Mrs Gillies is in charge of organising our school council
• Coming up with ideas to help improve the school and make decisions;
• Fundraise for different school projects and other charities.
Help the local area, last year we enjoyed carrying out a litter pick down by the cycle path as this was a main issue raised by members.
School Council Code of Conduct
As agreed by the School Council
To be on time to every school council meeting

Respect and listen to each others ideas

Put your hand up if you want to speak

make decisions after we have listened to each other

Always have the interest of the whole school at heart when making decisions

give all children a voice

Have a positive 'can do' attitude

Join in with all of our agreed activities
Meeting 1: September 26th 2018
We held our first meeting today, we were all excited to meet the other School council members, we cant wait to get our special School Council badges.
We had a little chat about our School Council rules for meetings and discussed what being a School Councillor means.
We have also talked about being a play leader, we have created a rota for children in each class to monitor the yard at lunch time and look out for children needing help or a friend. We have some very sensible School Council members who will make the perfect buddies for our younger children on the yard
Operation Christmas child,
As the school council are in charge of the collection of Shoe boxes for our annual Operation Christmas child, they helped Mrs Gillies to take assembly for the whole school about the shoe boxes. Here are their top tips for shoe boxes
Decide if your gift is for a boy or girl
Then tick the appropriate age box on the sticker provided, and stick on the outside of the lid (top right). Make sure the label is secure.
. Fill your box with gifts
Felt pens, pens, pencils, pencil sharpener, eraser, colouring book, notepad, picture or puzzle book, chalk, pencil case, stickers, etc. Bear, soft toy, tennis ball, finger puppet, jigsaw, yo-yo, building blocks, small musical instrument. Knitted items Toothbrush, toothpaste, hairbrush, comb, hair clips, bar of soap, flannel, etc.
Thank you to everyone who donated a shoe box, we collected 52!!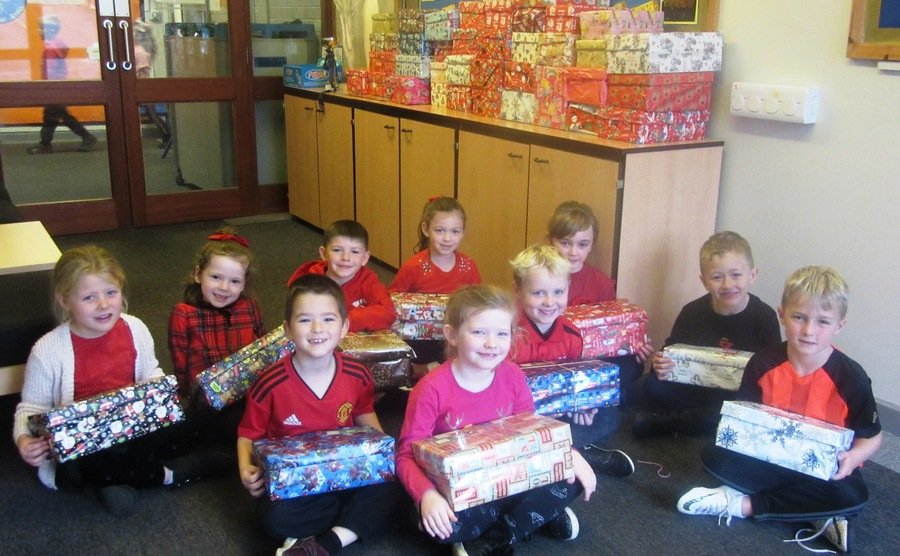 Pumpkin Judging
This week the school council were very excited to judge the fabulous pumpkins that came into school for our pumpkin competition, it was a very hard decision in each class as they were all fantastic. We are now going to count up the money and see how much we can spend on the outdoor loose parts shed.